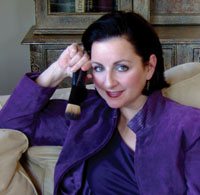 A Personal Message from 
Brenda Christian
As President and CEO of Brenda Christian Cosmetics, Inc, my philosophy is simple: I want to develop cosmetics which truly nurture the skin. Working with my team of extremely talented chemists, I strive to create innovative, solution oriented skin treatments and cosmetics for you, always working to provide real solutions to the everyday challenges we all meet as we age and attempt to stay fashionable.
Face it. Most of us are so busy juggling our personal and professional lives, that the last thing on our agenda is to see what's happening on the fashion design runways of the world, but we do want to stay up to date. That's where I come in, by translating what is happening in fashion into our every day lives. Yes, I'll tell you when dark lipstick is absolutely a no-no, but I'll also tell you to wear what makes you feel beautiful. I'll give you tips and tools to make your daily life just a little bit prettier, and a lot more comfortable, and hopefully iron out a few creases along the way.
For years, cosmetic companies have manufactured makeup and skin care products in order to sell them in large quantities through advertising and promotion. Women, who purchased these products, were actually purchasing a "dream" but soon realized they did not know how to use the products they had just purchased. That is why I chose to market my products through professional estheticians with a focus on the health of the skin in order to create the optimum personal benefits to our clients. This is how I make the "dream" we all want, come true!
I want to personally thank you for the faith you have placed in me, by making the important decision to use my products. Thank you for allowing me to pursue my passion and please know that to serve you is my privilege, and I am both grateful and excited about our future together.
From my heart to yours,
Brenda Christian