Description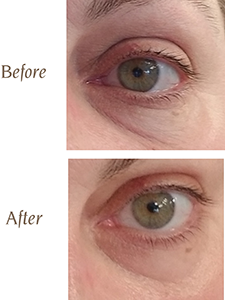 Just 10 minutes to a more beautiful and brighter you!
Crystal Gommage and Peace Tonique is the ideal two-step process for dissolving dead skin cells and restoring the skin to the perfect 5.5 pH levels.  Can be used daily…….or whenever one feels like a pick me up!
Recommended for all ages and all skin types.
Highly Recommended for Dry, Dehydrated, Enlarged Pores, Eczema, Psoriasis.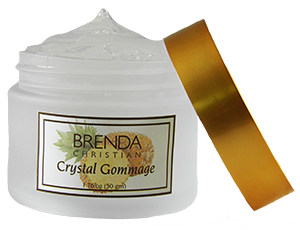 Crystal Gommage – Crystal Gommage is a cooling, hydrating 10 minutes facial miracle that will literally dissolve dead skin cells on your face with Organic Pineapple, and Papaya Fruit and Leaf Enzymes all the while surging your fresh skin cells with soothing Aloe Vera and Glycerin.
Results: Your Pores will be smaller. Wrinkles will appear less deep and your skin will be hydrated and silky soft.
Instructions for Use:  Remove one tablespoon of Crystal Gommage from the jar and apply to your entire face and neck, including the skin surrounding your eyes. You can apply with a brush, or our new crystal sponge. Use any extra Crystal Gommage on the back of your hands for a deeply deserved anti aging hand treatment. Let rest on skin for ten minutes, then lift away with purified or distilled lukewarm, not hot, water on a Tender Tuff Cloth. Follow with Peace Tonique.
Peace Tonique – The Perfect CALMING FACIAL TONER!
Beautiful Anti Aging Orange Blossom Water marries healing Organic Aloe Leaf Juice to tenderly surge your delicate facial tissues with soothing Organic Oat and White Willow to immediately calm the skin as tea tree oil disinfects and heals any skin trauma caused from harsh weather conditions or sun or wind explosure. Peace Tonique is the perfect treatment following any type of skin exfoliation or deep cleansing masque and restores the skin to it's perfect pH.
Instructions for Use:  To use, saturate cotton pad and gently stroke over your entire face and neck.
Tip: Lovely, refreshing pick me up following exercise or sun exposure.
Ingredients:
Crystal Gommage – Organic Aloe Leaf Juice, Organic Alcohol, Phenoxyethanol, Organic Pineapple Fruit Extract, Organic Papaya Fruit Extract, Organic Papaya Leaf Extract, Witch Hazel Water, Glycerin, Carbomer, Triethanolamine, Alcohol, Tetrasodium Glutamate Diacetate
Peace Tonique – Organic Aloe Leaf Juice (Aloe Barbadensis, Orange Blossom Water (Citrus Aurantium), Glycerin, Phenoxyethanol, Organic Oatstraw Extract (Avena Sativa), Organic White Willow Bark Extract (Salix alba), Tee Tree Leaf Oil (Melaleuca Alternifolia), Polysorbate 20, Organic Alcohol, Tetrasodium Glutamate Diacetate