Description
2

Simple Steps
3

Desert Island Necessities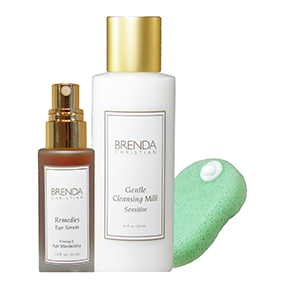 1. Gentle Cleansing Milk All . Sensitive 4.0 fl oz
2. Konjac Sponge
3. Remedies Eye Serum 1.0 fl oz
For Detailed Information About Each Product Above Please Select Item Name to Learn More.
How To Use Your New Eye Focus Kit:
Prepare Konjac Sponge by placing in a small bowl of clean, warm, filtered or distilled water.
Step 1: Squeeze 1/4 tsp. of Gentle Cleansing Milk onto fingertips and place on each eye lid, forehead, cheeks, chin, and neck.  Remove eye makeup first by massaging Gentle Cleansing Milk over the entire eye area including eye brows and eye lashes in a circular motion with your finger tips to distribute.  Circle the eyes at least four times moving away from the nose above the eye and toward the nose under the eyes. Use both hands to work on both eyes at the same time working with the fingers, then massage over each eye with the Konjac Sponge. If you have long fingernails, you may use the Konjac Sponge for your cleansing circular massage with the Gentle Cleansing Milk.    Rinse the Konjac Sponge, squeeze away excess water and remove Gentle Cleansing Milk with the clean Konjac Sponge by massaging in a circular motion over each eye.   Now, remove the balance of your facial makeup by massaging over the face in an upward and outward circular movement, then follow by massaging with your freshly rinsed Konjac Sponge.
Do not get makeup and/or cleanser in the eyes. Keep eyes relaxed. Do not squint as you cleanse but rather keep the eye lids closed and relaxed as if sleeping. Squeezing the eyes closed can open up the tear ducts in the corners of the eyes.
Step 2: Apply 1 pump of Remedies Eye Serum to both eyes (1/4 to ½ pump per eye) Massage over entire eye but not the eyebrows.
Ingredients:
Gentle Cleansing Milk – All . Sensitive Organic Aloe Leaf Juice, Organic Coconut Oil, Glycerin, Emulsifying Wax, Stearic Acid, Grapeseed Oil, Goat Milk Organic Lavender Water, Roman Chamomile Water, Organic Sugar Cane Extract, Organic Bilberry Fruit Extract, Organic Sugar Maple Extract, Organic Orange Peel Extract, Organic Lemon Peel Extract, Organic Cranberry Fruit Extract, Organic Green Tea Leaf Extract, Organic Alcohol, Glucomannan, Xanthan Gum, Phenoxyethanol, Tetrasodium Glutamate Diacetate
Konjac Sponge 100% Natural Fiber from the Root of the Asian plant Amorphophallus
Remedies Eye Serum  Deionized Water, Camellia Oleifera Extract (Green Tea Extract), Butylene Glycol, Hydrocotyl Extract, Coneflower Extract, Horse Chestnut Extract, Cucumber Extract, Chamomile Extract, Sodium Hyaluronate, Hydrolyzed Glycosaminoglycans, Endonucleine (RNA/DNA), Whole Leaf Aloe Vera, Glycerin, Butylene Glycol, Allantoin, Sodium PCA, Hyaluronic Acid, Panthenol, Vitamin A, Vitamin E, Jasmine, Chamomile, Methylparaben, Polysorbate 20, Triethanolamine, Carbomer, Diazolidinyl Urea.