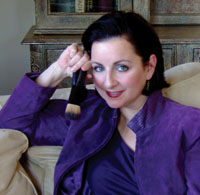 Brenda A. Christian – Founder
                 1957 – 2018
As President and CEO, Brenda's philosophy was simple: "I love creating cosmetic solutions for my clients, making a real difference, elevating their self-esteem. That's what it's all about for me. It is my passion! I thrive on creating a product to meet a specific need for one of my clients. However, what I enjoy most is sharing the solutions and teaching. It does not matter whether it is another professional aesthetician, a makeup artist, a physician, a model, an actress or one of my private clients".
"Face it. Most of us are so busy juggling our personal and professional lives, that the last thing on our agenda is to see what's happening on the fashion design runways of the world, but we do want to stay up to date.  That's where I come in, by translating what is happening in fashion into our everyday lives. Yes, I'll tell you when dark lipstick is absolutely a no-no, but I'll also tell you to wear what makes you feel beautiful. I'll give you tips and tools to make your daily life just a little bit prettier, and a lot more comfortable, and hopefully iron out a few creases along the way."
In the fall of 1984, Brenda Christian Cosmetics expanded into a sourcing company for professional makeup artists. Brenda Christian Cosmetics enlarged its presence in the market with the creation of Brenda's "flagship" product. The Perfect Brow® system was developed giving its user eyebrows that really looked fuller and very natural. This one-color Universal Brow Definer pencil uses the pH in your skin to adjust its color to your own natural eyebrow hair color. The recipient of the international "GLAMOUR" Gold Award and a recipient of the London Times "Top Ten Products to be Imported into Europe", Brenda's Perfect Brow system is unparalleled within this industry.
Ms. Christian passed away in the fall of 2018. This company has and will always reflect her legacy of passion and excitement for creating real solutions for real women in today's cosmetic industry. The cosmetic world lost a creative genius and visionary. Brenda leaves behind a company that only she could have built, and her spirit will be forever the foundation of Brenda Christian Cosmetics, Inc.