Description
Description
UNIVERSAL PERFECT BROW and LASH KIT FOR THE CREATION OF NATURALLY BEAUTIFUL BROWS and BEAUTIFUL LASHES!
Corrects Mistakes from Waxing, Loss of Natural Hair Through Aging, and Over Tweezing
Perfect Brow and Lash Kit Imparts A Natural Three-Dimensional Appearance
Treatment Mascara Duo:
• Makes Lashes Thicker and Stronger
• Stimulates Lash Growth
• Lashes Actually Become Healthier by Moisturizing Each Lash and Protecting the Lashes from the Environment Throughout the Day and Night.
• No Flaking, Recommended for Contact Lens Wearers
The Kit Includes:
1  Universal Brow Definer  – The Universal Brow Definer is a remarkable one-color eyebrow formula in a convenient pencil form that scientifically reads and automatically color adjusts to the pH of your eyebrow hair follicle. The Definer will not work on your hand or other areas of the face but is specifically designed to simulate eyebrow hairs. Upon touching the eyebrow area, Universal Brow Definer automatically adjusts from light to dark, warmer or cooler, to all natural eyebrow hair shades including Platinum Blonde, Soft Auburn, and deepest Brunette.
To use, begin with a clean eyebrow area. Just apply Universal Brow Definer to the eyebrow in very short, firm strokes working in the direction of the brow hair's natural growth, forming tiny little strokes from the roots. Stroke the Definer into brow areas where you have any voids. Then stroke through all-natural eyebrow hair in order to blend and perfect your color and shape. Then press the Perfect Brow Gel through eyebrow area to groom and set natural brow hair and to define Universal Brow Definer strokes, giving a three-dimensional effect.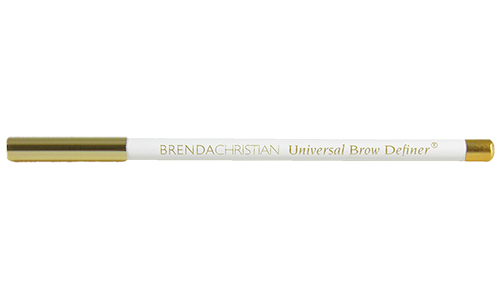 1  Perfect Brow Gel – Perfect Brow Gel is a clear, natural gel fixative designed specifically for the texture of eyebrows.
After applying the Universal Brow Definer, take the Perfect Brow Gel and press over the Universal Brow Definer with medium pressure to set new eyebrow strokes and separate each stroke into tiny natural looking hairs. Perfect Brow Gel holds natural eyebrows in place, sets newly applied brow hairs, and will never look shiny. Perfect Brow Gel is designed for sensitive skin and is fragrance free and hypo allergenic. One tube should last about three months with daily use.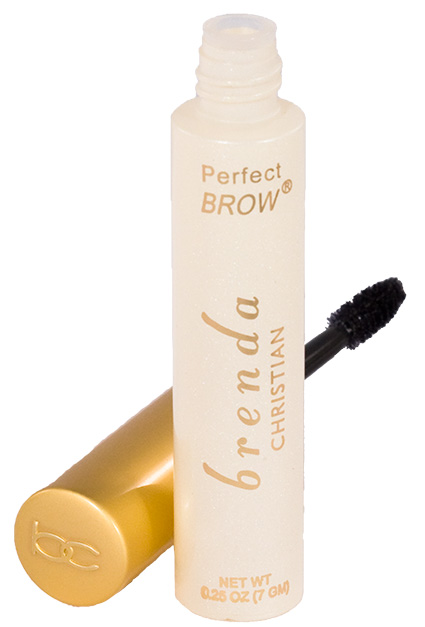 1  Precision Blade Sharpener – Our highest quality blade sharpens removing tiny amounts of Universal Brow Definer pencil, enhancing the life of your Universal Brow Definer.
A German-made, hand-polished stainless-steel blade that creates a sharp wedge at pencil tip for the precise creation of eyebrow hairs.  Special housing design protects surroundings then separates for sanitation of blade.  The Precision Blade Sharpener is extraordinary because it actually enhances the life of the Universal Brow Definer pencil.  To use, insert your pencil and make short quarter turns. The blade will actually create a sharp wedge at the tip of the pencil for the specific creation of eyebrow hairs. The blades are easily sanitized after sharpening with alcohol and a cotton swab.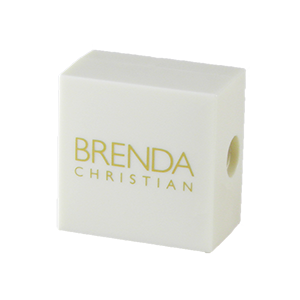 1  Treatment Mascara Duo – By coupling a cream primer which nurtures and creates fat, long eyelashes with a gentle beeswax mascara, Brenda Christian Cosmetics is proud to reintroduce THE Treatment Mascara Duo.  Build huge volume and give your lashes a spa treatment at the same time! Our new double-ended miracle Treatment Mascara Duo conditions, thickens, strengthens and encourages growth of your eyelashes, actually plumping them from the inside out with special, Panthenol-filled eyelash primer and mascara. Treatment Mascara Duo is composed of two integral parts, a Conditioning Primer and a Treatment Mascara in one easy-to-use unit with two custom-designed brushes. Treatment Mascara Duo is both fragrance and fume free, hypoallergenic and highly water-resistant.Our conditioning Primer is a gentle natural carnauba-based lash moisturizer loaded with Tocotrienols, Tocopherols and Panthenol to nourish the lashes through the day as it protects and volumizes your lashes. Conditioning Primer grips Treatment Mascara through the day and prevents flaking, smudging or smearing.  Treatment Mascara is a natural beeswax-based formula packed with Prumus Mume Fruit Extract, Biotinoyl Tripeptide-1 and Beta Sitosterol which encourages lash growth and makes lashes thicker and strong.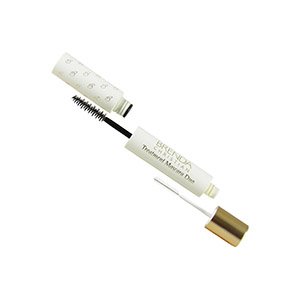 1 "How To" Brochure
1  Reusable Airline Travel Approved Vinyl Pouch
Never Worry About Color Selection
Universal Brow Definer and Perfect Brow work together and gently morph to your perfect brow hair color, ranging from Swedish Blond & Auburn to rich Brunette and African American Ebony.
Perfect Brow is designed for sensitive skin, is fragrance free, and is hypo allergenic.  One tube of Perfect Brow Gel should last about four months with daily use.
The neutral Espresso color of the Treatment Mascara Duo appears black on brunettes and soft black/brown on blondes and redheads. Because this unique formula adjusts to your natural hair color, it amplifies a perfect color intensity.
Ingredients:
Universal Brow Definer – Carnauba Wax, Candelilla Wax, Sasol Wax, Isooctyl Palmitate, Isopropyl Myristate, Caprylic/Capric Triglyceride, Colorants: Iron Oxides (Yellow, Black, Red), Titaniuim Dioxide
Perfect Brow Gel – Carbomer 940, Purified Water (Aqua), Sorbitol, Glycerin, Triethanolamine, Methylparaben, Propylparaben, Dehydroacetic Acid
Treatment Mascara –  Water, Iron Oxides, Beeswax, Palmitic Acid, Glycerin, Copernicia Cerifera (Carnauba) Wax, Glyceryl Stearate, Polybutene, Acrylates Copolymer, Synthetic Beeswax, Stearic Acid, C26-28 Alkyl Dimethicone, Euphorbia Cerifera (Candelilla) Wax, Tribehenin, Aminomethyl Propanediol, Phenoxyethanol, Hydroxyethylcellulose, Alcohol, PPG-2-Deceth-30, Ethylhexylglycerin, Sodium Laureth Sulfate, Butylene Glycol, Sodium Dehydroacetate, Tocotrienols, Elaeis Guineensis (Palm) Oil, Panthenol, Tocopherol, Squalene, Prunus Mume Fruit Extract, Beta-Sitosterol, Biotinoyl Tripeptide-1
Net Wt. 0.30 oz (9 ml)
Treatment Primer –  Water, Titanium Dioxide, Synthetic Beeswax, PVP, Palmitic Acid, Glyceryl Stearate, Glycerin, Copernicia Cerifera (Carnauba) Wax, Stearic Acid, Ultramarines, Tribehenin, Silica, Aminomethyl Propanediol, Phenoxyethanol, Hydroxyethylcellulose, Sodium Dehydroacetate, Butylene Glycol, Disodium EDTA, Ethylhexylglycerin, Prunus Mume Fruit Extract, Tocotrienols, Elaeis Guineensis (Palm) Oil, Panthenol, Tocopherol, Squalene, Beta-Sitosterol, Biotinoyl Tripeptide-1
Net Wt. 0.10 oz (3 ml)