Description
By coupling a cream primer which nurtures and creates fat, long eyelashes with a gentle beeswax mascara, Brenda Christian Cosmetics is proud to reintroduce THE Treatment Mascara Duo.
Build huge volume and give your lashes a spa treatment at the same time! Our new double-ended miracle Treatment Mascara Duo conditions, thickens, strengthens and encourages growth of your eyelashes, actually plumping them from the inside out with special, Panthenol-filled eyelash primer and mascara. Treatment Mascara Duo is composed of two integral parts, a Conditioning Primer and a Treatment Mascara in one easy-to-use unit with two custom-designed brushes. Treatment Mascara Duo is both fragrance and fume free, hypoallergenic and highly water-resistant.

Our conditioning Primer is a gentle natural carnauba-based lash moisturizer loaded with Tocotrienols, Tocopherols and Panthenol to nourish the lashes through the day as it protects and volumizes your lashes. Conditioning Primer grips Treatment Mascara through the day and prevents flaking, smudging or smearing.
Treatment Mascara is a natural beeswax-based formula packed with Prumus Mume Fruit Extract, Biotinoyl Tripeptide-1 and Beta Sitosterol which encourages lash growth and makes lashes thicker and stronger.
• Makes Lashes Thicker and Stronger
• Stimulates Lash Growth
• Lashes Actually Become Healthier by Moisturizing Each Lash and Protecting the Lashes from the Environment Throughout the Day and Night.
• No Flaking, Recommended for Contact Lens Wearers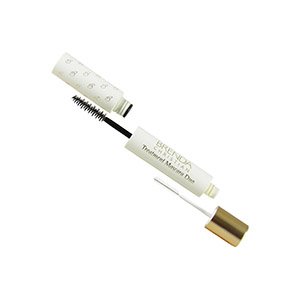 The neutral Espresso color appears black on brunettes and soft black/brown on blondes and redheads. Because this unique formula adjusts to your natural hair color, it amplifies a perfect color intensity.

Key Ingredients:
Prumus Mume Fruit Extract – Prevents loss of moisture by retaining the hair's natural moisture. It also has the ability to actively attract moisture. Prumus Mume Fruit Extract volumizes the hair by attracting moisture which expands the hair shaft.
Biotinoyl Tripeptide-1 – An ingredient used in many eyelash-growth products. It lessens the production of DHT (dihydrotestosterone), the primary contributing factor in hair loss, increases lash growth, stimulates hair-strengthening genes and increases the population of anagen hair, which is the active growth phase of hair follicles. It provokes the cells in the roots to divide more rapidly, which adds to the hair shaft.
Beta Sitosterol – Part of a group of plant extracts called phytosterols. It is believed to be a natural 5-alpha-reductase inhibitor. This is an enzyme that changes testosterone in DHT (dihydrotestosterone). It is believed that beta sitosterol helps battle hair loss by blocking or slowing down the production of DHT.
Tribehenin – An occlusive hair-conditioning agent: it forms a protective barrier on the lash, thus slowing down water loss and helping to keep lashes hydrated.
Squalene – Prevents breakage and hair loss. It eliminates the sebum that hampers the hair growth and retains the moisture of hair and makes them soft and shiny. It gives shine and elasticity to hair.
Tocopherol, Tocotrienol and Palm Oil – All three accelerate lash growth!
Vitamin E – (Especially the A-Tocopherol Acetate form) is a great moisturizer, too.
Here's how it works: Vitamin E strengthens the hair's natural barrier, reducing water loss. Now that moisture is locked into your lashes, it softens and plumps it up. It's not over. Vitamin E has one more trick up its sleeve. It helps your Mascara last longer. Vitamin E isn't your usual antioxidant. It doesn't kill bacteria and germs that find their way into your mascara. Instead, it prevents the light from oxidizing (i.e. making ineffective) the active ingredients in your mascara.
Panthenol – Works in a variety of ways. Panthenol can improve damaged lash hair. Panthenol works by improving effects of hair elasticity, moisture retention and flexibility. Panthenol, is part of the Vitamin B group, but when it's applied to hair, it takes on a pro-vitamin form and converts into pantothenic acid. At this point, panthenol can penetrate your hair shaft as well as the root of your hair; thus, giving your hair an extra boost of Vitamin B, which helps thicken your hair as well as promote hair growth. Panthenol can increase your hair diameter up to 10 percent. Panthenol has similar characteristics to humectants. Humectants moisturize your hair. Panthenol increases the thickness of your hair by restoring moisture, which is different from other products that simply "coat" the hair shaft to make it appear thicker.
Directions for Use:
Apply primer to eyelashes first working from root to tip of lashes. Primer will help curl your eyelashes. Allow to dry for 45 seconds. Then, apply one or two coats of Treatment Mascara over Conditioning Primer. To enhance curl, hold lashes on upper lid upward with fingertips. As the primer and mascara set, your lashes will freeze in curl. Brenda Christian Treatment Mascara Duo is water-resistant, not waterproof and will remove with any makeup remover.
Ingredients:
Treatment Mascara –  Water, Iron Oxides, Beeswax, Palmitic Acid, Glycerin, Copernicia Cerifera (Carnauba) Wax, Glyceryl Stearate, Polybutene, Acrylates Copolymer, Synthetic Beeswax, Stearic Acid, C26-28 Alkyl Dimethicone, Euphorbia Cerifera (Candelilla) Wax, Tribehenin, Aminomethyl Propanediol, Phenoxyethanol, Hydroxyethylcellulose, Alcohol, PPG-2-Deceth-30, Ethylhexylglycerin, Sodium Laureth Sulfate, Butylene Glycol, Sodium Dehydroacetate, Tocotrienols, Elaeis Guineensis (Palm) Oil, Panthenol, Tocopherol, Squalene, Prunus Mume Fruit Extract, Beta-Sitosterol, Biotinoyl Tripeptide-1
Net Wt. 0.30 oz (9 ml)
Treatment Primer –  Water, Titanium Dioxide, Synthetic Beeswax, PVP, Palmitic Acid, Glyceryl Stearate, Glycerin, Copernicia Cerifera (Carnauba) Wax, Stearic Acid, Ultramarines, Tribehenin, Silica, Aminomethyl Propanediol, Phenoxyethanol, Hydroxyethylcellulose, Sodium Dehydroacetate, Butylene Glycol, Disodium EDTA, Ethylhexylglycerin, Prunus Mume Fruit Extract, Tocotrienols, Elaeis Guineensis (Palm) Oil, Panthenol, Tocopherol, Squalene, Beta-Sitosterol, Biotinoyl Tripeptide-1
Net Wt. 0.10 oz (3 ml)