Description
Back By Popular Demand!
This ingenious little tool is an absolute must for everyone!
Never be concerned about your mascara ruining a beautiful makeup application. "Shape and Guard" is on the job. It helps you shape eyelashes perfectly, with no mistakes – ever!
"Shape and Guard" is a member of the acclaimed Brenda Christian "Perfect Brow® and Lash" family of innovative eye care products. For such a simple looking tool, you will be delighted with the ease and convenience of this unique device.
Mascara where you want it, when you want it!
When applying mascara, just hold the gentle "Shape and Guard" under the lower eyelashes. Brush mascara over the lashes as usual. Next, to apply mascara to the upper eyelashes by placing "Shape and Guard" above the upper lash line and pull up slightly. Brush mascara up through the eyelashes, extending toward the "Shape and Guard". The special little grooves in the "Shape and Guard" hold little puddles of mascara, creating longer, beautiful eyelashes.
Perfect Lashes Every Time!
Until "Shape and Guard", no tool has provided an ideal surface for the separation and extension of the eyelashes. The surface of "Shape and Guard" has 22 grooves that are spaced approximately the same distance apart and the same length as eyelashes. These one-of-a-kind grooves promote the separation and lengthening of your lashes during the application of mascara while providing an ideal backing surface. This device makes creating perfect lashes a breeze.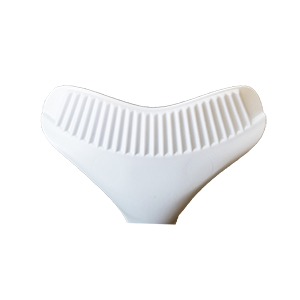 Every Diva's Dream!
"Shape and Guard" is excellent for anyone who no longer sees well up close and for those with either a heavy eyelid, or puffiness around the eye area. Its fashionable design and small size make "Shape and Guard" a wonderful addition for even the smallest purse or cosmetic case while its durable construction make it very light-weight and easy to clean.
This innovative return to Brenda Christian's "Perfect Brow® and Lash" family works flawlessly with Treatment Mascara Duo® to give you – every diva's dream – beautiful lashes every time!