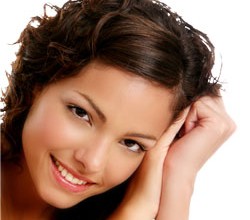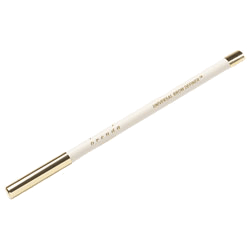 Universal Brow Definer™ and Perfect Brow® Gel are the ultimate, miracle eye brow creation system. Just stroke Universal Brow Definer™ over the skin in your eye brow area and watch as it automatically changes to the color of your own individual eyebrow color. Press Perfect Brow™ Gel over the Universal Brow Definer™ and your brow transcends to a perfect three dimensional eye brow. Individual eyebrow strokes are given shape with refractive light facets. Even a close-up camera lens can't tell which brow hairs are your own and which arrived, picture perfect from Brenda Christian.
No need to worry about color selection. Universal Brow Definer™ and Perfect Brow™ Gel are always your perfect color ranging from Swedish Blond through Redhead, Brunette and African American Ebony.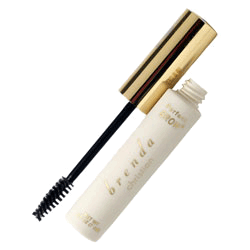 Perfect Brow® Gel is designed for sensitive skin and is fragrance free, hypo allergenic. One tube of Perfect Brow Gel should last about four months with daily use.
The American Journal of Aesthetic Medicine recommends Brenda Christian Cosmetics for creation of brows for anyone undergoing chemotherapy or suffering from Alopecia Areata.
A 5 Star Testimonial for Universal Brow Definer
:
"This is definitely the BEST eyebrow product ever! I have very sparse eyebrows and this is the first product I've used that both matches my color and fills in without looking `drawn on'. I highly recommend this brow pencil and the sharpener that goes with it!!! I buy them two at time, so I always have a back up. I also gave one to my friend going through chemo for breast cancer. She's now a survivor and a fan of Brenda Christian Brow Definer."
By D. Johnson "Queenie" (North Bend, WA United States) – January 30, 2009, 5 Stars On Amazon.com

Step 1
First sharpen your Universal Brow Definer using your Precision Blade Sharpener. Insert your pencil and make short quarter turns. The blade will actually create a sharp wedge at the tip of the pencil for the specific creation of eyebrow hairs.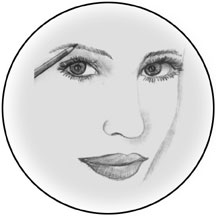 Step 2
Apply Universal Brow Definer to the eyebrow in very short, firm strokes working in the direction of the brow hair's natural growth, forming tiny little strokes from the roots. Whether you are filling voids in the brow area due to scar tissue, waxing or tweezing errors, or loss of hair due to Alopecia or chemotherapy, always follow the basic, natural brow shape. 
The pencil has been designed to make the hair strokes fatter at the base, thinning to its end, just like natural brow hair.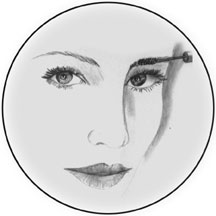 Step 3
Set and activate the color refractive pigmentation of the Universal Brow Definer with BC Perfect Brow Gel.  Press; do not brush the Perfect Brow Gel over any natural eye brow hairs and your Universal Brow Definer strokes to create a three dimensional, long-lasting, natural brow appearance.  The pressure you apply by pressing the Perfect Brow Gel special wand over your eye brow area will release a pre-measured amount of gel through the quills of each unique brush bristle.  The Perfect Brow brush is actually hollow and is filled with gel so you may not even be able to see any gel on the outside of the brush when you pull it through the special wiper.  The gel is inside the brush not lying on top of the brush.  You will never apply too much or too little and will always have a perfect application.  After applying the Perfect Brow Gel, the color of both your natural brows and the Universal Brow Definer will be enhanced and will actually mirror the color of your hair, even if you have had a hair color service and lightened or darkened your natural hair color. 
Your new Perfect Brows will never flake or appear shiny and will stay in place until you remove them at the end of your day.