Description

Brenda Christian Luxury Eyeliner can take things to the next level with just a few simple swipes. Of course, those simple swipes don't seem so simple when you're an eyeliner novice. That's where the right applicator comes into play. Felt tip eyeliner is easy to master, allowing anyone to become an eyeliner veteran in no time at all.
Use a felt tip eyeliner if…you're not an eyeliner expert. Like we mentioned, a felt tip eyeliner will make lining your eyes much easier if you're new to liquid formulas. The precise applicator will keep mess-ups at bay.
Use a felt tip eyeliner if…you're short on time. In a rush?  Felt tip eyeliner gives you more control, allowing you to line your eyes quickly.
Use a felt tip eyeliner if…you love convenience.  A felt tip eyeliner has everything you need in one product. Pop one in your purse or makeup bag for an eyeliner option that's always ready to go.
The superfine, flexible felt tip guides your line without tugging or flaking for subtle-to-bold precision that brings any look to life.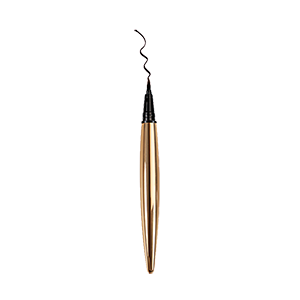 What It Does: Whether you're a liquid liner novice or veteran, this felt tip pen makes it easy to create quick flicks, bold wings, and everything in between. The felt tip pen is ultra-precise and the highly pigmented formula that won't smear, smudge, or fade yet removes easily with any makeup remover.
Directions for Use:
Prep your felt tip eyeliner by removing the cap and exposing your applicator.
Start small. Position the felt tip at your inner corner, then begin by creating a small, thin stroke. You can always make it thicker!
Build out your liner. Continue to line your lash line by connecting short, steady strokes rather than drawing a single continuous line.
Bonus Tip: Wing it out. If you choose, extend your line past your inner corner to create a sharp, precise wing.